ReadyPayGo provides two simple options to process credit cards with your Auction Frogs account
---
Create account (most popular)
With our Stripe Connect there are no setup fees, no monthly fees and for established nonprofits, you simply pay 2.79% + $0.30. Learn more about creating an account.
Perfect for one-time events
Start accepting credit cards in minutes

Our dashboard provides simple and effective reporting to make bank reconciliation a snap. Dynamic field management is supported so you choose only the reports you need; detailed daily deposits, gross, net, names, emails, address and more. You can also run one time cards through the virtual terminal or set up recurring donations/payments with ease.
In addition, we offer online payment forms for your organization. Use our forms for your upcoming event or use them on an annual basis. Our forms are great for online donations, registrations, invoicing, and more. Payment forms integrate with many of the systems you are using today; Quickbooks, Salesforce, MailChimp, Google and A LOT more.  Learn about our payment forms.
Tired of using 8 systems for your organization? Let ReadyPayGo help simplify your payment processes. Contact us and tell us what's going on, we want to hear how YOU want everything to work. Set it and forget it! Or just use us for one event, either way we are happy to help you out.
Create an account
2.79% + $0.30
$0/month
Creating a new account through ReadyPayGo is easy to set up and easier to understand with a flat pricing rate of 2.79% + $0.30 (no monthly, annual, or pci fees). Use your account for just one event or use it on an annual basis for online donations, payments, forms and more! 2.79% + $0.30 is for Visa, MC, Discover and requires underwriting approval of 501c3 status. Standard pricing is 3.49% + $0.30 until underwriting approval.
Free to setup
No monthly fees
Simply pay 2.79% + $0.30
*American Express processes at a higher rate
Connect your account
0.95% + $0.00
$10/month
If you currently have a merchant/payment services company, we can most likely connect ReadyPayGo to your account. We will work with your current provider to connect the systems. Use your connected merchant account with our online payment forms to easily create donation forms, payment forms, registration forms and more!
Current processors include:
First Data
Stripe
Authorize.net
Heartland
Elavon
Chase Paymentech
and more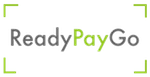 Give us a call: 888.675.6255
Send us an email: support@readypaygo.com
Send us something?
800 W. Main St. Ste 1460
Boise, ID 83702